Graduate School of Agriculture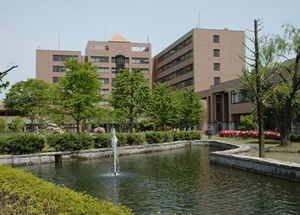 The Faculty of Agricultural Studies (master's curriculum) is designed to cultivate individuals with abilities to initiate proactive solutions for a variety of issues and problems faced by regional as well as global society on the basis of specialized knowledge and understanding of concerns surrounding food, human life, and environment in relation to agriculture in order to promote the sustainable development of human society in harmony with natural environment in the 21st century.
Major in Biological Production Science
The major in Biological Production Science is intended to promote research and education to establish and improve the biological production and utilization system in harmony with natural environment. As part of the academic vision, we aim to make contributions to the development of a new era by cultivating professionals with specialized knowledge and skills that can be applied to building effective standards for exceedingly abundant yet high-quality harvest of crops and safe production of animal products.
Major in Bioresource Science
The major in Natural Resources and Biological Science trains experts with highly specialized knowledge and problem-solving skills to uncover the problems with food resources and utilize all biological resources to ensure environmental conservation and reservation based on advanced techniques acquired through careful examination of life science, chemistry, and ecology.
Major in Regional and Environmental Science
The major in Regional Environmental Studies focuses on fostering professionals with problem-solving skills and abilities to create a renewable, sustainable living environment built on the infrastructure of effective food production in agriculture and farming. The program also prepares students with specialized knowledge through education and research to evaluate the desirable characteristics of a sustainable, eco-friendly regional community.