College of Education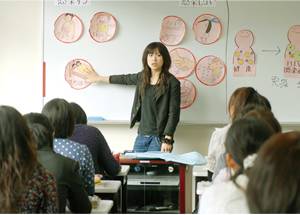 Cultivating people who make an unrelenting effort to learn and actualize inner potentials
"Education" is a term that involves a wide range of academic endeavors, which indeed deserves our foremost attention. Educators as well as a number of education service agencies targeting the general public are expected to keep accurate track of challenges facing modern society and transmit the corresponding messages in an easy-to-understand fashion. Accordingly, the Faculty of Education strives to foster "educators" in the most extensive sense of the term and gifted individuals with creative talents who can suggest unparalleled and intuitive solutions to the highly specialized, globalized, and informatized society from the perspective of education.
Teacher Training Course
Promoting the educational and cultural growth of children
The world surrounding us is now changing faster than ever before. What is required of educators in today's fast-evolving learning environments is the ability to turn intellectual curiosity with respect to mankind, society, and nature into hands-on experience. For that reason, educators are expected to expand the scope of their perspectives, while consistently seeking to acquire highly specialized knowledge and practical skills.
Our school teacher training course is focused on training and producing intellectually attractive individuals with abilities to think logically, act accordingly, and express freely. The course is also designed to ensure competency in each chosen subject area as well as professional proficiency needed at schools for special education. Professionally trained to educate children in accordance with their physical and emotional development, our graduates have confidence in teaching at primary and junior high schools as competent educators.
Course for School Nurse Teacher
Improving the mental and physical health of all children
Children are undesirably exposed to stress-evoking situations in everyday life. The school infirmary is often called an " oasis for the mind" at school as it is a place where students with a variety of mental problems, besides a physical injury or ailment, are taken care of by skilled and trained mentors. Students discuss matters like bullying and truancy. School nurses are uniquely prepared to develop and implement individualized health care plans for each student and to coordinate a team approach in active cooperation with class teachers and parents, ensuring that all students have an enjoyable, healthful, and invigorating school life. The school nurse training course consists of medical sciences including basic medicine, clinical medicine, nursing, and public health, as well as health sciences including health education, school nursing, and general education, cultivating skilled school nurses who understand the complex interactions between physiological and psychological responses in a human being.
Course for Information and Culture
Cultivating human resources who can autonomously process information
Today's modern society is often called an "information society" and the tendency is getting even stronger each day. We need people who can multilaterally as well as comprehensively investigate into the extent to which informatization may affect our society, culture, and lifestyle, while at the same time proactively utilizing a variety of information resources available as pioneers of a whole-new information culture.
The Information and Culture course was reorganized into 3 subject areas in 2007.
The Society and Culture Course: Academic analysis and research on issues and phenomena that take place in our society and culture
The Life Design Course: Designing and manufacturing of barrier-free welfare equipment and research on housing and space standards
The Art and Culture Course: Research on cultural resources and manufacturing of arts and crafts to create a culture that promotes interconnectivity among people
Keeping the focus on these specialized subject areas, students may also extend their knowledge in a variety of fields.
Course for Human Environmental Education
Cultivating abilities to transmit specialized knowledge and skills to the general public
Today's modern society continues to face new challenges and impediments that require innovation and reconfiguration. In order to identify the problems and suggest new solutions, we need people who do not solely rely on their specialized knowledge and skills but act as a medium between specialists and the general public. The Human Environment course curriculums are designed and geared towards empowering students with specialized knowledge and skills while promoting a better understanding of human beings and today's modern society so that they can share a wide range of social and cultural issues with the general public in a persuasive manner and take initiatives for carrying out problem-solving strategies. In order for that to happen, the course principally covers subject areas that extend knowledge and understanding of the human body and mind and their relationship with the environment, examine issues faced by the modern society, and develop skills to transfer knowledge. In addition, specialized subject areas in each course focus on sustaining the natural environment, promoting consciousness of ecological issues, planning and executing sport events, learning physiological mechanisms in human behavior, and scrutinizing the psychological and sociocultural factors that affect our society through discussion, practice, and experiment.